5G Research Infrastructure
Our Lab has a 5G stand alone network, with 3GPP release 16 capabilities. This network is a state of the art one and is set to go live to the market in the next period. Thus, this makes the capabilities that we have in the lab suitable for Research and Development on a future commercial network as well as testing and validating application and products that one wants to deploy in the future network. 
Beside this network an OpenRAN, Open CORE implementation will also be available, in the lab, for future research. 
Alongside the private networks the are programable devices and off-the-shelf devices for IoT and 5G to be used for research or other services that can be contracted by companies or startups. 
Network Infrastructure key modules
5G Stand Alone Private Mobile Radio – core component of 5G infrastructure 
5G New Radio – the radio access component of the 5G infrastructure;
Open RAN and Open CORE components based on the separation of the software from the hardware equipment allowing the virtualization of the functionality of the radio network or the core network and have the ability to run the system on CoTS (Commercial-of-the-Shelf) equipment and open interfaces;
Edge Computing plays a key role as a technology that reduces the distance between users (applications) and services (data) and facilitates the stability of minimal latencies and transmission throughput, as required by services and applications.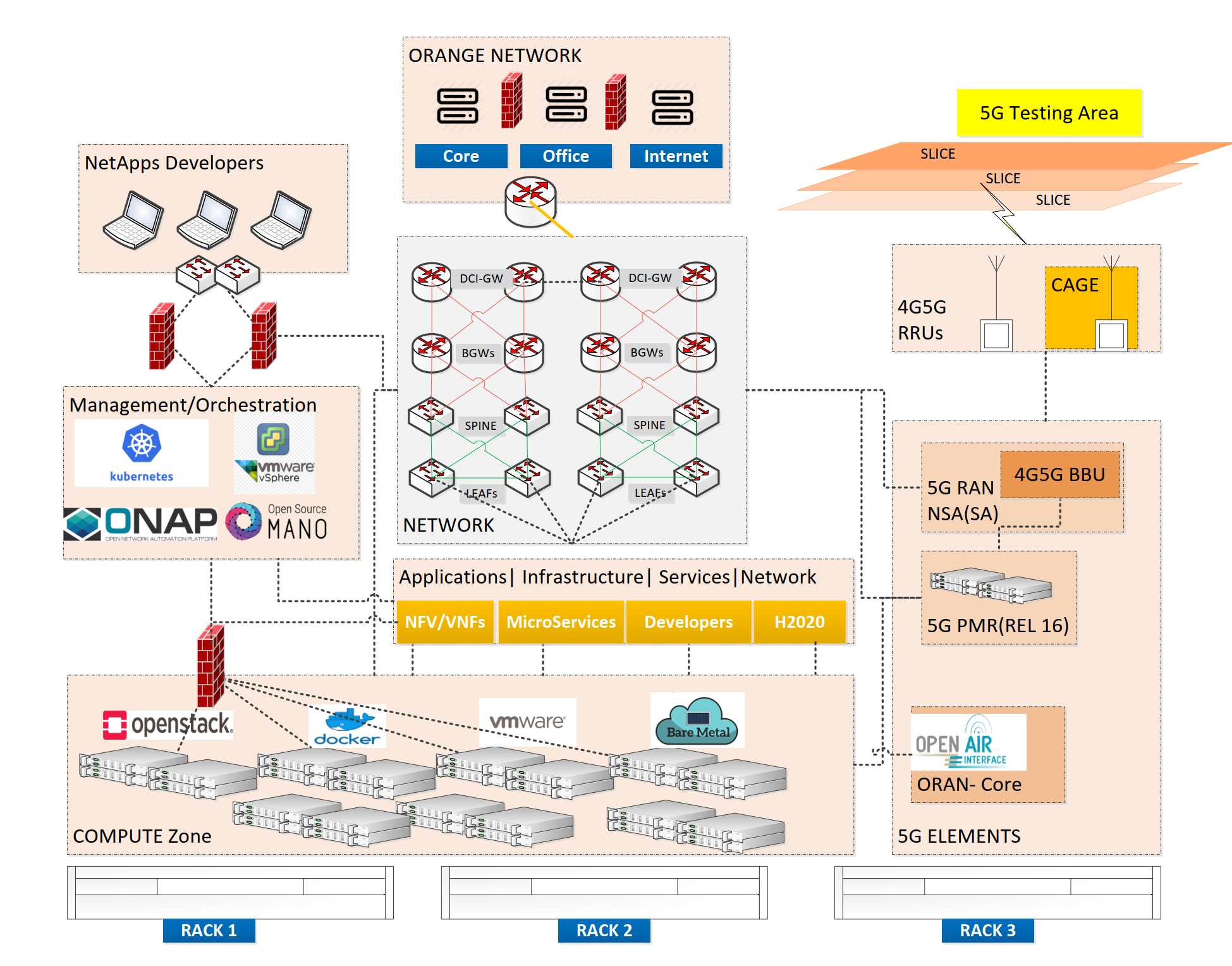 Other equipment and devices 
IoT Modules
35 IoT communication modules (FiPy) + sensors (PySense) 
WiFi 802.11b/b/n, Bluetooth v4.2 BR/EDR and BLE, cellular LTE-CAT M1/NB1 3GPP release 13 LTE Advanced Pro, LoRa Class A and C devices, Sigfox Semtech SX1272 – Long Range, Low Power RF Transceiver 860-1000MHz with LoRa® Technology

Ambient light sensor, Barometric pressure sensor, Humidity sensor, 3 axis 12-bit accelerometer, Temperature sensor, USB port with serial access, LiPo battery charger, MicroSD card compatibility, Ultra low power operation (~1uA in deep sleep)
M2M SIM cards
Access to the LiveObjects platform for data aggregation from sensors   
5G modules
30+ 5G programable devices, SIM8200EA with Evaluation Kits
5G SIM cards
5G M2M routers
5G Off-the-shelf routers 
5G off-the-shelf consumer devices 
Other devices and tools 
USRP N310/B310
Semi-anechoic chamber, specifically designed for such demanding applications as MIMO testing, wireless mesh performance analysis, and IoT testing 
WiFi6 Routers
Other platforms and services developed  in the H2020 R&D projects such as 5G-EVE, 5G-VICTORI, 5GASP și VITAL-5G